Chocolate makes everything so much better, is'nt it. What you are about to read is a real life scenario of words often confused…. . Chocolate Liquor, chocolate liqueur and liqueur chocolate. Everything is oh so chocolatey. Chocolate liquor and chocolate liqueur are often used interchangeably. But what exactly are we referring to?
Chocolate Liquor
This is basically a primary  by product of processing cocoa beans. Chocolate Liquor is solid or semi solid form of pure cocoa mass. The constituents are 53-54 percent of cocoa butter, 17 percent carbs, 11 percent protein and 6 percent tannins. It's composed of a combination of cocoa solids and cocoa butter, typically at a 50:50 ratio.
After through washing, for extraction the cocoa beans are ground into this semi solid paste called unsweetened chocolate or cocoa mass. The liquor is either separated into cocoa solids and cocoa butter, or cooled and molded into blocks of raw chocolate. The name liquor is used not in the sense of a distilled, alcoholic substance, but rather the older meaning of the word, meaning 'liquid' or 'fluid'.
Chocolate Liqueur
Moving on to the second one, chocolate liqueur. It is a beverage made from an base liquor like whiskey or vodka to which chocolate is added. Some chocolate liqueurs contain dark chocolate and others are made with milk chocolate or white chocolate.
Turns out that you can have your chocolate and drink it too. A whisky rich in chocolate essence, what better  could life be. It tastes just as good in liquid form, so instead of reaching for that box of truffles, why not enjoy a glass of chocolate liqueur. This is indeed the best friend for  that post dinner sweet tooth craving. Here is a list of five best graded chocolate liqueurs.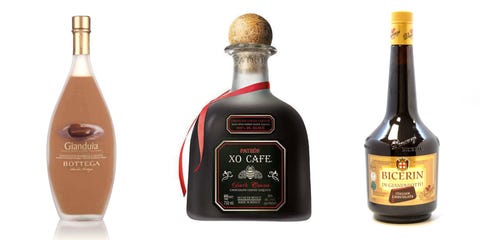 Godiva Dark /White Chocolate Liqueur
Bottega Nero Cioccolato Gianduia
Baileys Chocolate Cherry
Patrón XO Cafe Dark Cocoa
Dorda Double Chocolate Liqueur
Liqueur Chocolates
This bite sized goodness I would say creativity's gift to the world of taste. Imagine handing out boozy chocolates as gifts makes everything so much better.With new techniques and palate for trying something new. World's finest chocolatiers are already offering us chocolates and alcohol.
Here are the world's finest
Prestat's London Gin Truffles.
Vosges's Mash Bill Truffle Collection.
Jacques Torres's Champagne Truffles
Well they say life happens but chocolate helps! May chocolates help  you through quarantine<3